About Us
Serving the Hollywood Mac/PC community for years.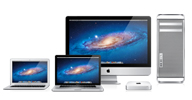 Our mission is clear, to provide the greatest service ever.
All our pre owned APPLE & PC PRODUCTS are tested by qualified technicians.
Unlike some other stores, no appointment is necessary. In addition, our parking is free and conveniently located directly behind our store.
Our expert knowledge with all Macintosh/PC Models allows us to quickly inspect, assess and recommend repairs, saving you valuable time and money. We provide a full range of Mac/PC repairs, upgrades, and replacement services with convenient hours and on-site or in-store support.
We can save you money with low-cost screen replacements, flat-rate data recoveries, and flat-rate rentals for use while your Mac is in for repair and more.
Our pricing is very competitive and in many cases, we are far less expensive than most alternatives.
Give us a call and see how we can recover your important data. We're data recovery experts